Introduction
1925-34
Travels in Europe
1935-38
In Yugoslavia
1939-45
War years
1945-68
In Sweden
Contact





© Olaf Jordan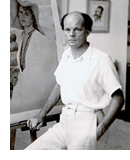 Olaf Jordan had spent many school holidays at his parentsī villa outside Dubrovnik, and in 1935 he built himself a house there with a studio. This is where he and his wife Helfrid planned a future for their family. He travelled around Yugoslavia and made, at official request, a large number of portraits, also one of the then young King Peter. His pictures were exhibited in, for example, Sarajevo, Belgrade, Cetinje in Montenegro and in Prague. A collection of these portraits lay ready to be printed for a book in Prague, but the war got between and all originals are lost.

When the Sudetenland was ceded to Germany in 1938 Jordan, who after the creation of Czechoslovakia in 1918 was a Czech citizen, automatically became German, and he and his wife had to return to Decin with their little daughter. Little did they think that they were never to return to their home on the Adriatic coast.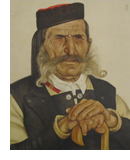 The pictures shown here are from the few photos and reproductions that their friends had kept and could send to Jordan in Sweden after the war.

A portfolio with fifteen print proofs of portraits that was retrieved after the war was donated to the Ethnographic Museum in Dubrovnik in 2012.

In the spring of 2016 works from this period could be seen at the Ethnographic Museum in Dubrovnik at an exhibition called "Olaf Jordan - Faces of the Balkans".